Style Level vs. SKU Level Attributes
Style Level attributes are those pieces of information that are common to all members of the same Style. They are products grouped together that appear on the same page, and the values you submit to eBags for all members of the style must be identical.
SKU level attributes are specific to the individual product inside the Style, like UPC and color. These can vary from product to product inside a Style Level.
Identifying Style Level Attributes
Product Details Page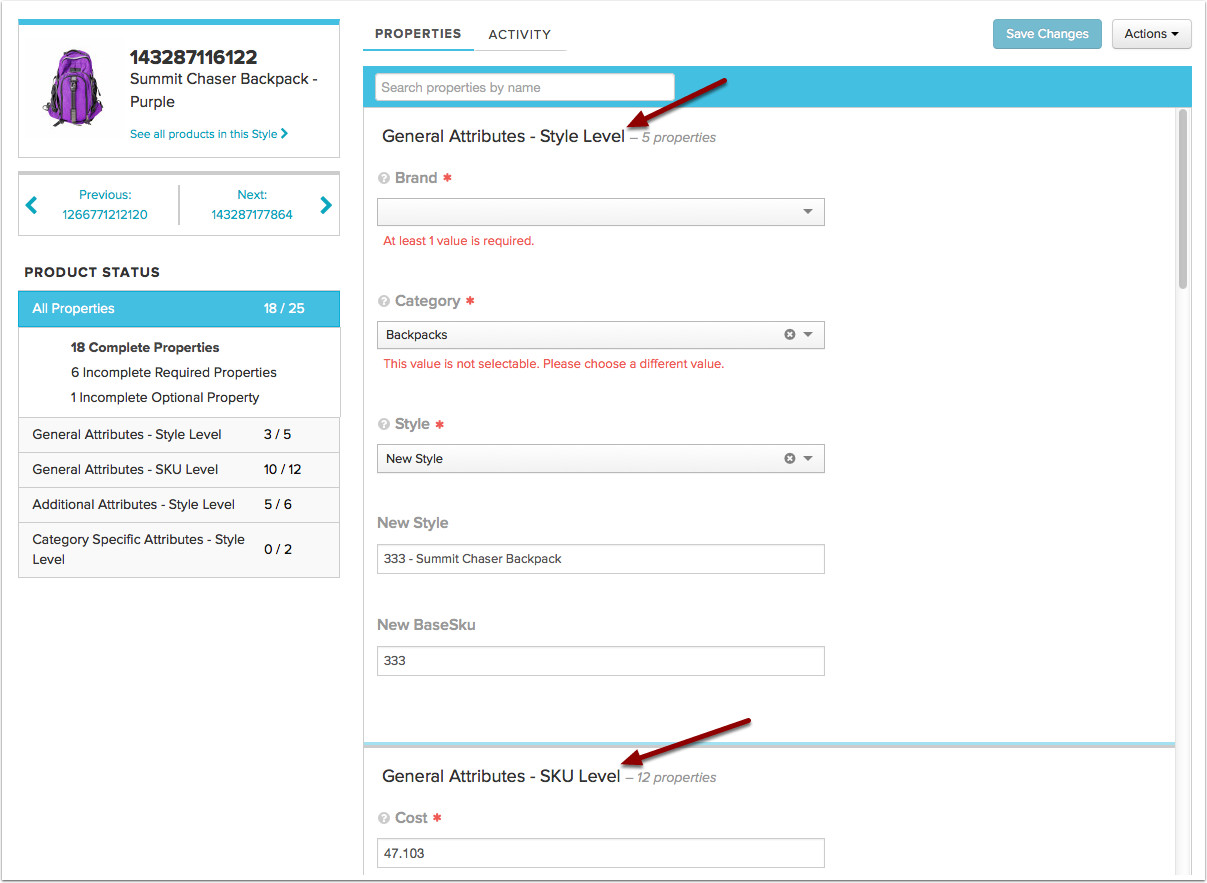 On the product details page, each header section identifies whether the included attributes are sku level or Style Level. As you're editing individual products, be mindful as you update Style Level attributes that you're consistent across all members of the same Styles.
If a product is part of a Style Level group, a link will appear under the product name in the box in the upper left corner of the screen. Click the link to view the other products that are part of the same group.
Readiness Report
The readiness report validates that all members of the same Style to ensure they contain the same values. If any members of the Style Level vary, the entire group does not pass the readiness report's validation for the attribute that contains a variation.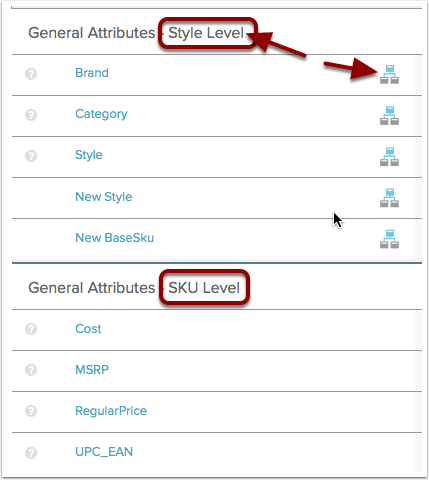 So for example, if you have a , that is offered in seven colors, each of the seven shares the same details for the attributes listed below, and those values must be consistent across all variations of the style to be submitted to eBags successfully.
eBags Style Level Attributes

There are both general Style Level attributes for eBags, which are those common to all products, and category-specific attributes.

General Style Level attributes for eBags include:

Brand
Category
Country of Origin
Features
New BaseSku
New Style
New Warranty
New Year
Short Description
Style
Warranty
Weight
Weight UOM
Category-specific style level attributes include:
Audio Type
Baby Accessory Type
Backpack Handbag Type
Battery Type
Belt Type
Boot Type
Bracelet Type
Brooch & Pin Type
Camera Accessory Type
Camera Case Type
Camera Type
Camping Accessory Type
Capacity
Capacity UOM
CD/DVD Sleeve Type
Charger Type
Clutch Type
Connectivity Type
Cross-Body Bag Type
Dress Type
Drop Length
Earring Type
Electronics Device Type
Exterior Dimension UOM
Eyewear Type
Fitness & Yoga Accessory Type
Fluid Capacity
Garment Bag Type
Gender
Glove Type
Golf Accessory Type
Golf Bags Type
Gun Accessory Type
Hair Accessory Type
Hat Type
Headphone Fit Type
Hobo Type
Hunting & Fishing Accessory Type
Interface Type
Interior Dimension UOM
Laptop Pocket Dimension UOM
Laptop Pocket Large Dimension
Laptop Pocket Medium Dimension
Laptop Pocket Small Dimension
Large Exterior Dimension
Large Interior Dimension
Locator Technology Type
Luggage Accessory Type
Luggage Set Type
Material
Material Description
Medium Exterior Dimension
Medium Interior Dimension
Memory Type
Men's Legwear & Sock Type
Men's Scarf Type
Necklace Type
Outerwear Type
Packing Aid Type
Pants Fit Type
Personal Travel Care Type
Ring Type
Satchel Type
Shirt Type
Shoe Type
Shorts Type
Shoulder Bag Type
Skirt Type
Small Exterior Dimension
Small Interior Dimension
Speaker Type
Sport Type
Strap and Drop Length UOM
Strap Length
Sweater Type
Toiletry Kit Type
Tools Accessory Type
Tote Type
Travel Electronic Type
Travel Wallet Type
Umbrella Type
Undergarment Type
Wallet Type
Watch Type
Women's Legwear & Sock Type
Women's Scarf Type